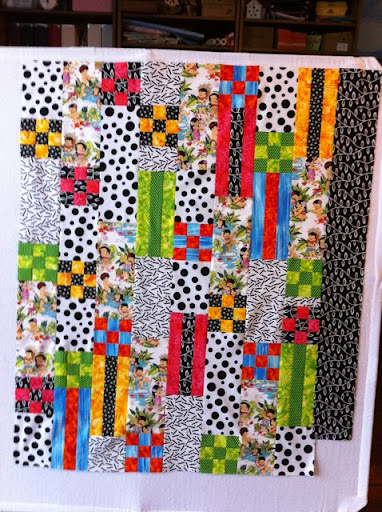 Aloha and good morning.
I put my little quilt top together.  Isn't it fun?!  It now measures 36 x 48 and I'm contemplating adding a black border.  I think it the black will make the colors pop, and the added size will make it a little more appropriate for a family of growing boys.
I've ordered more of the white on black fabric for the border.  I'm thinking it should be the same size as the strips (4.5" finished) but I might go just a little bit smaller.
The back will be the focus fabric with a pieced stripe in it.   I have two nine-patch blocks left over and a bunch of the brights.  I'm planning on the strip being the same width as those on the front and off center vertically on the back.
The binding is solid black.  The quilting....what do you think about lime green banana leaves, or maybe aqua frothy waves.  I haven't really decided on this one yet.

Noah 2009 at Shaver Lake CA

Tomorrow my boy goes in for surgery.  The plan is to align his clavicle and brace it with metal plates.  This is hardly the first dent on my first boy.  He seems to make a habit of getting hurt.  He's had stitches on his face, and a broken foot, and several concussions.  He's jammed his fingers any number of times.  He always comes back for more.  I don't know how mothers of extreme sportsmen do it.  My boy hardly qualifies for the title, hasn't had nearly as many accidents, and I'm still a wreck.  I don't think I will ever get used to the idea.  If you think of it, say a prayer for Noah and his surgeon...that all goes well, and that healing is just around the corner.